MINUTES
Weber Area Council of Governments
March 4th, 2013
4:30 PM
2380 Washington Blvd.
Commission Chambers
Ogden, UT 84401
Members in Attendance: Mayors Clifford, Burrows, Minster, Ritchie, Dickemore, Green, Bybee, Butler, Jenkins,  
Caldwell, Commissioner Zogmaister    
Others in Attendance:  Mr. Ryan Stewart, Ms. Melissa Chun, Mr. Harry Zimmerman, Mr. Ken Jackson, Mr. Craig Jackson, Ms. Lori Buttars, Ms. Anna Guymon, Ms. Paula Price, Mr. Tom Burkland, Mr. Sean Lambert, Mr. Gary Laird, Mr. Eric Householder, Mr. Douglas Larsen, Mr. Rob Scott, Ms. Melissa Smith, Ms. Meg Naisbitt, Ms. Shelly Halacy, Mr. Paul Taylor
Welcome – Mayor Clifford


Pledge of Allegiance – Mayor Butler
    
Invocation – Mayor Burrows


Approval of Minutes from 2/4/13

-Mayor Harris mentioned that he attended the last meeting and his name was missing from the minutes.   
Ms. Smith agreed to make the correction. 

Action: Mayor Burrows moved to approve the February meeting meetings with the noted correction. Mayor Minster seconded the motion.  All members voted in favor of approving the minutes with the noted correction.

Motion: The action passed.
-None
Mayors for Meals
-Ms. Paula Price
Ms. Price introduced the Mayors for Meals program and asked all Mayors to volunteer by delivering meals on 3/20.    The meals are prepared at the Weber Nutrition Kitchen at 1176 W. 3300 S., Ogden UT.  This is where they will need to meet to load the meals in the vans for delivery.
Contact Info:  Ms Paula Price
801-625-3771
Paulap@weberhs.org
 Weber County Storm Water Coalition
-Mayor Bybee and Mr. Eric Householder
-Mayor Bybee and Mr. Householder reviewed the information in the handout "Weber County Storm Water Coalition" and noted that the Interlocal Cooperation Agreement Between Weber County Cities and Weber County for UPDES General Permit must be updated and renewed every 5 years with 2013 being the end of the last agreement.
-With each renewal, each city must provide training for its individual contractors.  The training can be provided by each city individual city or can be provided through the coalition. Mayor Bybee thinks it would be more beneficial to have each of the cities work through the coalition.
Who is the Weber County Storm Water Coalition?
-The Coalition is made up of 14 Weber County cities along the Wasatch front, Weber County and Weber State University
-Formed as a result of the Small Municipal Separate Storm Sewer Systems Permit (MS4)
-The MS4 Permit is mandated and regulated by the Utah Division of Water Quality
The Six Minimum Control Measures of the MS4 Permit
1) Public Education and Outreach on Storm Water Impacts
2) Public Involvement/Participation
3) Illicit Discharge Detection and Elimination (IDDE)
4) Construction Site Storm Water Runoff Control
5) Long-Term/Post Construction Storm Water Management
6) Pollution Prevention and Good Housekeeping for Municipal Operations
Why is the Weber County Storm Water Coalition here today?
-Weber County is terminating the 2003 Interlocal Agreements with WCSWC members on June 30th
-Looking at other Wasatch front coalitions as examples, the WCSWC is proposing a new Interlocal
Cooperation Agreement that supports an operating budget for the 2013-2014 fiscal year.
What are the Benefits?
Collectively pool funds together to get group pricing on services at a cost advantageous to taxpayers.
Proposed Operating Budget
Budget Item Total Notes
1. Annual Water Fair: $10,450
2. APWA Fall Conference: $2,100
-Registration fee for 14 member employees
3. Utah Flood Plain and Storm Water Managers Conference: $4,550
-Registration fee and two nights in a hotel for 14 member employees
4. National StormCon Conference: $1,600
-Registration and travel expenses for one member employee
5. Dedicated Website Setup: $3,000
-One-time cost with future funds going to item #9
6. Website Annual Maintenance: $1,500
7.Targeted Audience: $2,000 Flyer or brochure
8.Training: Contractor, Industrial,Public Employee: $4,000
-Third party instructor with food and materials
Equipment, Displays, Etc.: $800
10. Compliance GO Software: $15,000
-Inspection tracking software
Total Budget $45,000
How are the Annual Fees Calculated?
--Using 2010 population census data, individual cities will be invoiced based on their percentage  
of the total Weber County population
-Total proposed annual budget is $45,000
-Each city will pay approximately $0.19 per resident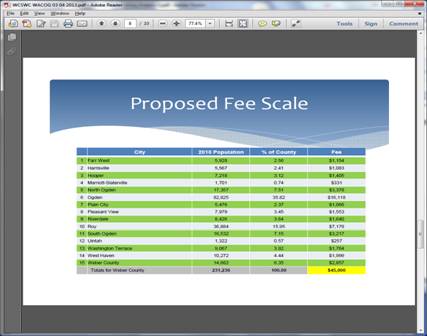 What are the next steps?
-Review the following
• 2013-2014 fee schedule and operating budget
• Draft Interlocal Cooperative Agreement language
• Submit comments to the WCSWC by May 1st
-Goal is 100% member participation and executed agreements in place by July 1st
-Mr. Stewart modeled the interlocal agreement after that of Davis County.
-Commissioner Zogmaister asked who sits on the Board.
-The Board is composed of 15 members representing each city in Weber County.
-Mr. Paul Taylor, a consulting engineer who attends the coalition meetings, noted that each city is   
responsible for its part of the implementation and funding.
-Commissioner Zogmaister noted that the county has been solely funding this project and asked what the difference was between the storm water projects and the coalition.
-Mayor Bybee noted that $200 was supposed to be received by the county from every city for these projects, but it was not occurring.  Weber County had instead been funding the projects without the $200 from each city.
-Mayor Ritchie asked Mr. Householder 3 questions.
What's broken that we need to fix?
Why is there an increase the payment?
What happens if we don't pay it?
 
-Ogden City has been participating in the program already.
-The audit helps make sure that all the contractors are educated which is necessary for the audit.
-Major Jenkins spoke in favor of the coalition, indicating that each city would have to go through a very similar process of education and training.  He felt it would be much less expensive if the cities worked together.
-Commissioner Zogmaister asked if this was a compliance issue.
-Mr. Householder said yes.
-Mayor Bybee suggested putting one city in charge.
-Tom Hansen from Washington Terrace: This agreement consolidates the resources in the county.  It makes it more   
affordable.  We should start looking at legislative possibilities for providing safe storm water.
-Mr. Householder will be in charge of contacting each of the cities.
Changes to the Utah Indoor Clean Air Act
-Ms. Anna Guymon
-Ms. Guymon summarized how the Weber Morgan Health Department contacted the general public and businesses in the area.
Installation Complex Encroachment Management Action Plan
-Presenter: Mr. Ryan Stewart
1. Headquarters U.S. Air Force has selected Hill Air Force Base (AFB) to take part of an enterprise-wide
Air Force Encroachment Management Initiative. As part of the initiative, Hill AFB will develop an
Installation Complex Encroachment Management Action Plan (ICEMAP). Marstel-Day, LLC, with
offices in Fredericksburg, VA, has extensive knowledge and experience in such reports and has been
contracted to conduct this study.
2. The ICEMAP will analyze crucial encroachment data as the underpinning for recommendations to
sustain compatible mission and community growth through targeted action steps. The ICEMAP's goal is
to arrive at solutions and create a joint partnering path beneficial to all stakeholders, both at the
installation and in the neighboring communities.
4. Hill AFB values its relationship with our surrounding communities and recognizes that the
installation's activities impact the community just as the community's activities impact the installation.
-Mayor Clifford asked about the output of the work.
-Mr. Stewart said that the output of the work went directly back to the base.
-Mr. Stewart is the main point of contact.
Hill Air Force Base Budgeting and Community Support
Colonel Long
N/A – Did not present.
Solid Waste and Recycling Issues
-Mr. Gary Laird
-The Mission of the Weber County Solid Waste Department is to manage the flow of waste generated within our community by reducing, recycling, reclaiming, and disposing of materials in the most cost effective and environmentally sound manner possible.  We plan to use the best management practices available in the solid waste industry keeping in mind that generations to come will depend on the values reflected in our decisions today.
CURRENT SOLID WASTE EFFORTS
Transfer Station Operation
Reconstruction Due to Fire
Curbside/Commercial Recycling
Construction & Demolition Landfill
Compost Facility
RECYCLING UPDATE
Cancelled Recycling Contract in September
Issued RFP for Future Service
Reviewed proposals
Signed contract with Recycling Waste Solutions in December 2011
In 2012 increased Revenue from $62,000 to $450,000.
RECYCLING CUSTOMERS
CUSTOMER                                             TONS 2011               TONS 2012
Ace Disposal                                                83                                67       
Arrow Disposal                                             4                                 2
Allied Waste                                                 1261                            1454
Econo Waste                                                39                                230
Far West                                                        51                                224
Harrisville City                                            57                                27
Hooper City                                                   1                                0
North Ogden City                                          1040                            1018
Ogden City                                                   3869                            3728
Plain City                                                      319                              340
Pleasant View                                              393                             394
Robinson Waste                                           891                              800
Roy City                                                        286                               378
South Ogden                                              1002                               861
Washington Terrace                         455                               413
Waste Management                                     2972*                          1577*
Cash Customers                                          632**                            431**
Recycling is Saving Money
Cities that recycle have, in effect, reduced their disposal costs by $4-5/ton.
According to the EPA, nearly 65% of all plastic and 75% of all paper is being produced from recycled material. 
Cost savings to individuals are already estimated to far exceed the recycle fee
Landfill Facts
Weber County Purchased the Facility from Randy Moulding in 2009.
Received permit Feb. 8, 2010
Weber County receives $1.50/ton for all waste going into the facility
The operator is responsible for all equipment, salaries and wages, maintenance, state fees, etc.
In 2012 Weber County diverted 18,880 tons at a savings of $176,000.
- In 2012, Weber county Diverted 18,880 Tons of C&D Material at an estimated savings of $176,000
-The C&D Landfill is estimated to have a capacity of 8 million tons.
Recreation, Arts, Museums, Parks Report
-Ms. Meg Naisbitt
-In 2013, the group had 85 applications, requesting approximately 3.5 million dollars
-RAMP had 2.8 million dollars in revenue to distribute
-The applications were carefully reviewed by the Weber County Legal department to make sure that they met the criteria.
-The goal is make the funding go as far as possible.
-The applications were scored by the committee.
-5/1 is the start of the municipality grants.  The grants from 2012 needs to be in by 4/30.
-The applying entities need to have a cultural council to meet the 2013 requirement.
-The cultural council can oversee the funds and make sure they are used correctly.
-The municipalities need to have the process report turned in by 12/1.
-The punctuality of the report adversely affects future funding opportunities.
Commissioner Zogmaister commended the RAMP committee and thanked them for their effort.
Action:  Mayor Ritchie moved to accept the recommendation of the RAMP Committee.  Mayor Harris
              seconded the motion.
Motion:  All members voted in favor of accepting the recommendations of the RAMP Committee. 
               Commissioner Zogmaister abstained.
Mayor Clifford declared that the meeting was adjourned.