Sheriff Terry L. Thompson – Bio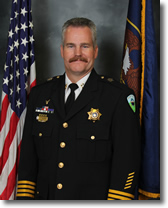 I was born and raised in Roy, Utah, attending North Park Elementary school, Sandridge Junior High School, and Roy High, graduating in 1980. During high school I was employed at Smiths Food King in Roy, (no longer there…tells you how old I am).
At age 16, I could hunt big game and get that coveted drivers license. They don't make cars today like the muscle cars of the 60's and 70's (okay, maybe better, by industry standards) but I will take a vintage muscle car any day. Yes, I have been on the receiving end of too many citations - all well deserved - and rightfully earned.
At 18 years old, I went to work for Southern Pacific Railroad. I took a break at 19 to teach the good word in Philadelphia, Pennsylvania. Upon returning home, I went back to work at Southern Pacific Railroad and have worked nearly every piece of railroad track between Ogden, Utah, and Wells, Nevada. I was living at the Hogup Mountains, Utah West desert, as the famous (or infamous) Great Salt Lake pumps were being built and the construction completed to pump the lake further into the Western desert to reduce flooding. During these years prior to having children, I spent my weeks away from home, returning home on weekends. To stay busy while away, I successfully completed a two year correspondence gun smith course of study.
In 1984, I was lucky enough to marry "up" in life and convinced the former Natalie Weaver of Roy that she could not go on in life without me. Contrary to her better judgment, she gave in and has found herself stuck with me for eternity, which she has no doubt since determined, is a really long time. I attended the Utah Law Enforcement Police Academy at Weber State University in 1988. While attending the academy, I completed one year of higher education at Weber State. Subsequent to my academy graduation, I was hired by Salt Lake County Sheriff's Office in the Jail Division as a Corrections Deputy, working at the old Metro Jail in Salt Lake City. In 1989, I was successfully hired by Weber County Sheriff's Office as an Enforcement Patrol Deputy and have remained with Weber County Sheriff's Office for over two decades. I was 26 years old when hired at Weber County, that same month, my wife Natalie and I received our first child Preston, followed by our youngest Madison, 2 ½ years later.
Nat and I had committed years earlier that, as parents, we would provide our children a home with a full time mother. This was an important decision for us. Nat quit full time work and we reduced our income by two-thirds as we continued on in life with a single law enforcement income. The sacrifice was worth it and we would do nothing differently.
These were formative years that grew into a life-long ambition to protect and defend. I had an intense desire to protect good people as a defender of what was right. Doing the right thing by serving the community is firmly imprinted into my DNA. The adrenaline flowing from the inherent risks involved in public safety service forged a passionate love of the job and of good people. Like the sheepdog protecting the flock, the warrior in me serves the citizens of Utah and our Weber County community.
During my early years in Law Enforcement we lived in Roy, Utah, near Roy High School. I spent the majority of my free time with family. I also spent time bow hunting, recreational shooting and camping. I began to shoot competitively with the Utah Sheriff's Association and spent 12 years shooting competitively, often taking my family to the annual summer convention, where Nat and the kids had fun participating.
We moved in 1994 to the unincorporated county area north of Plain City and west of Smith & Edwards (the world's greatest store). This move gave us a little bit of property to keep a few horses. We have loved the area, good neighbors, open country and raising our kids to adulthood. We stay busy with our faith but have found time to take some family vacations. We have taken the kids to Disneyland, Disneyworld, and cruises. However, our RV trip to the East Coast has left the most lasting impression (good or bad). You know what RV stands for don't you? "Ruined Vacation"  We spent four weeks in a motor home traveling across country to the East Coast taking in church history, American history, and historical sites. It was an incredible vacation that I would love to do again. (Remind me sometime and I will tell you a story that will forever live in the annals of Thompson Family history) As the kids grew, we spent our time at little league football games, soccer, band recitals, and horsing around. We have horse packed into the Uintah Mountains and occasionally pilgrimage to Seattle, Washington, to visit family. Nat and I enjoy motorcycling and take the Harley for a relaxing ride as often as time permits. About a decade ago, when both kids were in school, Nat decided to move from volunteer PTA involvement in the schools to teaching. She is a Resource Aide at Kanesville Elementary School, specializing in special needs children. (I have to regularly tell her she cannot bring them home). Nat is currently attending Weber State University in pursuit of her teaching degree in "Special Education".
I have spent the last 16 years teaching and instructing citizens in various firearms use and deadly force training. Specifically, Utah State Concealed Carry Permit (CCP) course of instruction and NRA courses – Basic Pistol, and Personal Protection in the Home. Additionally, I instruct a Defensive Skills course of instruction designed for the CCP holder. I have enjoyed teaching many good folks interested in being prepared to protect themselves and their loved ones when danger knocks at the door. I have written several articles over the years, typically in support of our 2nd Amendment Freedoms, as they have continually come under attack. I have had articles printed in the Weber State University Signpost, Utah Peace Officer Association Magazine, The Law Enforcement Alliance of America Magazine, letters to the editor & guest commentaries in Utah newspapers. I am passionate about protecting our constitutional liberties and our amendments to the constitution as the inspired founding fathers of our great country intended.
I am excited to be in a unique position as elected Sheriff, to have a wider circle of influence in the protection of our constitution and individual freedoms. I hope that each of us will do our part to preserve the freedoms that so many have given their lives for.
Terry