S.W.A.T.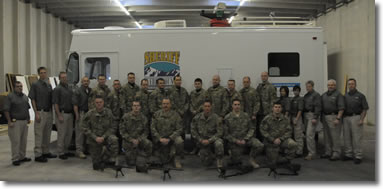 The Weber Metro SWAT Team is a 26 person team made up of men and women who work for the Weber County Sheriff's Office, the Harrisville Police Department and Weber County's Information Technology department.

Our team is composed of a command element, two entry squads, a marksmen squad, a hostage negotiations section and technicians who handle the high tech equipment.

The team was created in July of 2008 and after undergoing an extensive training period, we went operational in November, 2008.

We handle tactical operations in two correctional facilities, the district court, the un-incorporated areas of Weber County as well as for the cities of Farr West, Harrisville, Hooper, Huntsville, Marriott Slaterville, Plain City, Uintah, Washington Terrace, and West Haven.

These tactical operations may include riots within the correctional facilities, trials involving high risk prisoners or the transportation these inmates, suicidal subjects, barricaded suspects, high risk warrant service, dignitary protection, and hostage rescue.